Open and transparent player in sustainability
Sustainability as part of our corporate governance

Our sustainability work is supported within the organisation through our sustainability strategy, which has been approved by the Board of Melbye. All our employees have a responsibility to contribute to this, so that we can comply with our action plan and sustainability measures.
We focus on continuous improvements in everything we do, something that we have incorporated into our management system. By setting clear goals, and showing accountability in attitudes and actions, we strengthen our values: Team Spirit, Professionalism and Innovation.
For several years, the Norwegian part of Melbye Group, Melbye Skandinavia Norge AS - have been certified in accordance with the requirements of the quality and environmental standards ISO 9001:2015 and ISO 14001:2015. The quality and environmental management system, as well as the organisation itself, are built around our main processes. Melbye Skandinavia Sverige AS and Melbye Fiber Ltd., follow some of the same processes.
In the long term, we aim to put in place our own sustainability report, highlight our contribution over time, as well as ISO certify all entities of Melbye Group.
Responsible partner
At Melbye, we are a responsible partner thanks to our use of due diligence assessments and the fact that we set requirements for suppliers in terms of compliance. We do this primarily through our Code of Conduct. A total of 90% of all existing suppliers have so far confirmed that they accept and comply with Melbye's Code of Conduct.
Risk survey
We also work actively on auditing and evaluating our suppliers in connection with our risk survey. We will continue to work on improving transparency and communication in this area. We will publish an annual report on our due diligence work in accordance with Ethical Trade Norway's framework. ​
The Norwegian Transparency Act and due diligence
In order to comply with Norway's new Transparency Act, it will be particularly important to work actively on due diligence assessments for sustainable business practices in the future. This applies within the field of human rights and working conditions in the supply chain, where we will take the necessary measures if needed.  ​
Through our membership of  Ethical Trade Norway we can always assure our customers that we are receiving good advice and support in accordance with due diligence. ​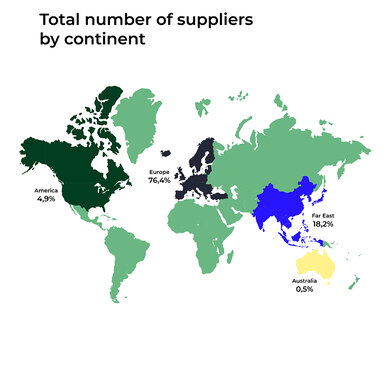 Assessment of main suppliers
At Melbye, we assess our main suppliers in accordance with the same principles that we apply to ourselves. ​We prefer to use suppliers that are certified in accordance with ISO 9001 and ISO 14001, or the equivalent. ​All new suppliers are assessed in accordance with the company's quality assurance system and audit form. In addition, all suppliers, based on a risk survey, must undergo a physical audit. 
A total of 76% of our suppliers come from Europe, 5.4% come from the USA/Australia, and 18% come from Asia. In Asia, we have our own inspectors working on our behalf.

The same requirements are maintained for all companies within Melbye Group. ​